Meet the Makers: RE:FIND Handcrafted Spirits
Sustainable Spirits from Local Distillery Take Our Rooftop Bar to a New Level
Two Paso firsts are joining forces high above the downtown city park. Tetto, the city's first rooftop bar, and RE:FIND Handcrafted Spirits, Paso's first distillery are teaming up to toast some incredible craft cocktails starting this fall.
From Wasted Wine to Sustainable Spirits
Like many transplants, wine brought Alex and Monica Villicana of RE:FIND Handcrafted Spirits to the Central Coast. They began visiting the area in the early '90s before moving here in 2001 to start Villicana Winery & Vineyard. "As a small business we do all of our own farming in the vineyards and we live here on the property," said Monica. Experiencing firsthand the hard work of winemaking, Alex and Monica knew all too well the amount of wasted materials in the winemaking process—which got Alex thinking. "When we realized that vodka could be made from anything that's fermentable, that's when the alarm bells started to go off," said Alex's wife, Monica.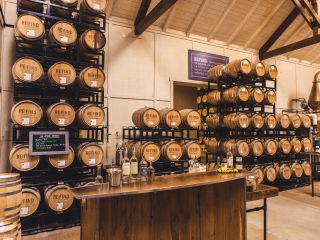 "The distillery was started in 2011 as a way to utilize the resources of the winemaking process more fully" Alex stated, "That's actually where the name RE:FIND came from, [we were] finding a use for the prized wine juice not being utilized in the wine industry and refining it into a finished product" he said.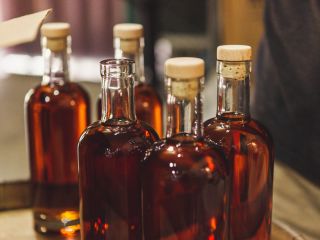 While RE:FIND started small, it's been rapidly growing ever since. "Originally it was just to utilize what we were wasting [at Villicana Wines], but now we collect from about 20 different wineries on average," Alex said. "That gives us about 30,000 gallons worth of juice that was being thrown away before."
So it's more than just locally made spirits, it's crafted using local ingredients too! "It really is Paso's spirits brand," said Monica, "because there are so many Paso wineries that contribute to it."
Teamwork Makes the Dream Work
There are countless reasons to love Paso Robles, but if you ask folks in the wine and beverage industry you'll find a common thread throughout many of their answers: collaboration. "The spirit of collaboration in Paso is incredible. It's a real symbiotic relationship between all the makers," Monica said.
The folks behind RE:FIND have come to develop close relationships with many makers in this tightknit community. Alex would go as far as to attribute their success to their many friends. "Collaboration is huge," he said, "We would never be as successful of a winery or a distillery without the help of friends, neighbors, farmers, and everyone else—no matter how big or small you are here in Paso, everyone seems to work together."
A Sign of the Times
Times are changing in Paso. When the Villicana's first moved to the area in the early '90s there were only 15 wineries—now there are over 200 in Paso Robles alone. Alex said it well, "The Piccolo is a sign that Paso is taking that next step as a wine region. Now that we're producing those top-end wines we're starting to get the top end accommodations to match."
While Tetto and RE:FIND may both be "firsts" for Paso, we both have deep roots that contribute to the long legacy of hospitality in this city we call home. It's with that unique legacy that we introduce the next generation of Paso Robles perfected at The Piccolo.
For more information and to taste RE:FIND's amazing spirits, click here.